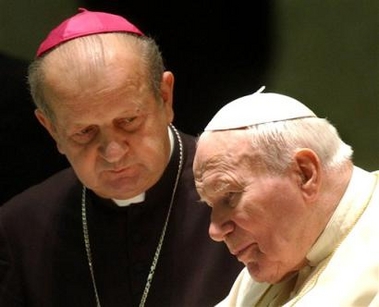 I was reading some old posts on Amy Welborn's blog and there were a few responses that bothered me. She had written about Archbishop Stanislaw Dziwisz being appointed to head the Archdiocese of Krakow. There were several vile replies to her post. It seems there are those who don't believe he has the experience or qualifications. I hope those sentiments are fading now that he is joining the College of Cardinals.
Cardinal-Designate Dziwisz has a wealth of knowledge gleaned from one of the best teachers possible, Pope John Paul II. I imagine that what he lacks in parish experience, he gained in worldwide pastoral experience. There have been few popes as pastoral as John Paul II. Being one of the only people with true 24 hour access to him and obviously serving as a trusted advisor and a true friend. I think Cardinal--Designate Dziwisz is well qualified to serve as Archbishop of Krakow and in the College of Cardinals.
Cardinal-Designate Dziwisz didn't plan on this path when he was ordained to the priesthood, but God and a bishop named Karol Wojtyla has other plans for him. He served Bishop Wojtyla during dangerous times in Poland and followed him faithfully when he was elected Pope. I am sure it was heartbreaking to leave his home and country.
He caught John Paul when he was shot and cradled him in his arms as the popemobile rushed to the waiting ambulance. He traveled around the world with him and was a listening ear to ideas and problems. He was a trusted advisor to John Paul. He administered the Sacrament of Anointing of the Sick and Viaticum during John Paul's last days and sat by his bedside, holding his hand as he died. The images of him sitting unwavering during John Paul's wake present us with the true closeness between them. He looked like a son. Exhausted by caring for someone so ill, happy to see him at rest and heartbroken at the loss of a dear friend. The image of his brushing away his tears is one that will remain with me always.
Cardinal-Designate Dziwisz is well qualified and deserves his red hat. Congratulations! Sto-lat!